Algo 8180 IP Audio Alerter
SKU code: 8180


Network managed SIP endpoint.

Dual purpose loud ringing and/or talkback voice paging

Significantly louder (eight to twenty times) than typical telephones

SoundSureTM ambient noise compensation adjusts output for noise level

Multicasting capability for wide area notification
This product is subject to pricing via quotation. Please see the Quote Form Button in the description.
Algo 8180 IP Audio Alerter
Wideband IP Speaker
The 8180 SIP Audio Alerter supports the Wideband G.722 HD voice codec. Consequently, there is high intelligibility and clarity of audio from the speaker for IP paging of voice announcements and emergency notification. The result is better STI-PA scores, which is important in meeting standards such as NFPA 72 and NEMA SB-40 for Emergency Communication in Education.
Multi-Application SIP Extensions
Multiple SIP registrations are available in this IP speaker, including Page (50), Emergency Alert (10) and Ring (10) extensions. On Page, the speaker will auto-answer when called for making public address (PA) voice announcements. For Ring and Emergency Alert extensions the speaker will play a configurable WAV file from 1GB device memory when the extension is called (e.g., ring tones for telephone alerting, notification alerts for safety / security / emergency events and informational announcements).
Scale Algo IP Paging Speakers Over Any Size Building or Campus
The 8180 SIP Audio Alerter supports multicast send or receive. As a result, many Algo IP speakers can be deployed to cover any size building, campus (e.g., classrooms in a school, college or university) or enterprise. There is no limit to the number of devices part of a multicast, and a minimum of network traffic activity is utilized.
A single registered SIP Audio Alerter can be configured to multicast to any number and mix of Algo IP speakers, strobe lights, paging adapters and multicast supported IP telephones.
Multicast provides cost effective scalability using a minimum of SIP registered endpoints, as only the endpoint designated to send the multicast needs to be registered. Devices configured to receive the multicast do not need registration.
Support is available for RTP multicast, in addition to Polycom Group Page, Singlewire InformaCast (part no. 8180-IC) and Syn-Apps Revolution.
Features:
Public address (PA) IP speaker.

Secure SIP using TLS and SRTP.

Wideband HD voice for high intelligibility speech.

Dynamic volume control responsive to ambient noise levels.

Talkback capable speaker.

Customize WAV files for emergency notification / alerting and telephone loud ringing.

Configuration via user friendly web interface or auto-provisioning.

Ideal for a school or college classroom, office, lunch room, kitchen, restaurant, etc.
Please click the button to open a form in a new window to request a quotation. We will be in touch shortly.
If you have issues accessing the quote form, please login and add items to the cart, then request an automated quote on the checkout.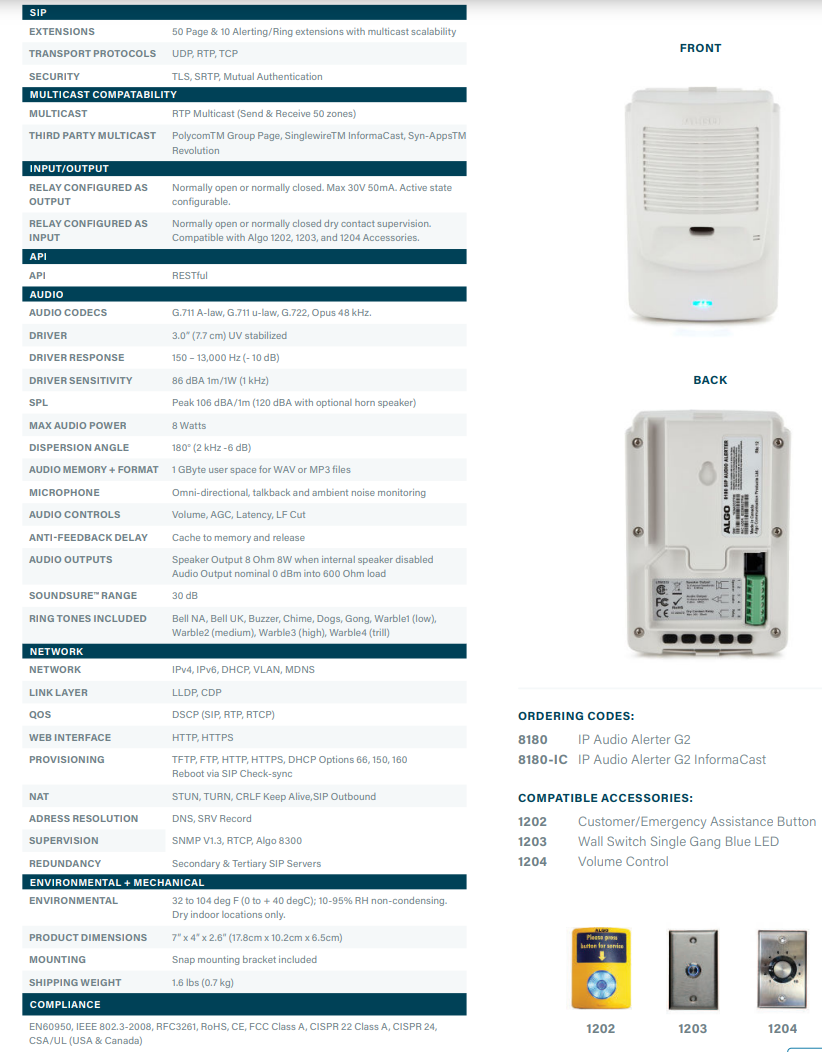 Be The First To Review This Product!
Help other Interquartz (A'Asia) Pty Ltd users shop smarter by writing reviews for products you have purchased.